The Pact
by Jodi Picoult
I was trying to find something to read that would definitely be easy to read, engaging, and keep my mind off the fact that we didn't have internet access at home. When the internet goes out, it's time to read, but I was distracted by the upcoming vacation, and so I needed a book to really interest me. There are times to read books that take more thought and concentration, and there are times to read books that you can flip right through. At 400 pages this book is not easy to whiz through, but the writing is so easy to read, and the story so interesting that it does seem to fly by.
I've never read any other books by Jodi Picoult, though I did see the movie
My Sister's Keeper
so I knew what kind of stories Picoult was writing. I usually tend to avoid writers like her, but like I said, I needed something easy to read. It was easy to read, but also engaging.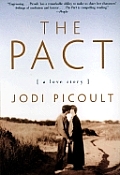 Two young children grow up as neighbors and best friends. They have known each other since they were babies, and begin to date when they become teenagers. The story centers on an apparent double suicide attempt, which leaves the boyfriend as the survivor. He's accused of murder, while he pleads it was a botched suicide. Trials ensue, the parents' relationships are torn apart, etc. etc. It's almost predictable, and it's almost a little too easy to see where it's going, but Picoult does a great job at centering the story around the confusion and the emotions surrounding the young man accused of murder. There are just enough twists to make it intriguing.