American Wife
by Curtis Sittenfeld
Sometimes I just want to read a book that is fun, interesting, and easy to read. I've found fun books and easy to read books, and even books that are fun and easy to read. Or maybe even just interesting. I was expecting perhaps fun and easy to read when I picked up
American Wife
. Sittenfeld's last book,
Prep
, was basically just about the social lives of students at a boarding school. Reading it, I felt like I was reading a gossip magazine.
American Wife
, though, surprised me. It's quite obvious that Sittenfeld expanded her storytelling abilities. Not only was it a good read, it was thought-provoking and entertaining.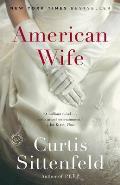 American Wife
is a novel based on the life events of Laura Bush. Well, I think Sittenfeld would say that no, it's based on a compilation of many different first ladies, however the really large events mirror Laura Bush's life. What really propels this book is the lead character's compelling introspectives and personal anecdotes on life in the limelight. It feels weird to say this, but I now see politicians differently. As a country we've put our politicians on a pedastal - perhaps not a glowing pedastal, but a pedastal nonetheless, where we expect them to be the perfect image of Americans. The private thoughts, worries, and ideas that we never see would indeed surprise us.
All in all,
American Wife
is a great story. It is told by a great storyteller, and I look forward to Sittenfeld's next book with anticipation.